|x|Basics|x|

Name: GiGi
Nick Name: Gabby Belle, Peanut, Midge
Age: 15
Sex: proud owner of a vagina
Sexuality: .bisexual slut.
Status: single! =D
Location (optional): California
Your Birthday: 9.10.89
Describe Yourself (What makes you different): I don't think anything makes me remarkably different. I just love to have fun. I am a laid back person. I am loud. Overly opinionated. Stubborn. Kinky. Horny. Sweet. On occasion I am shy and quiet. Clumsy.
Why should you be accepted? Because I am pretty active in communities as long as I know the community's purpose.

|x|Favorites|x|

Bands: (Name at least 10+) Fall Out Boy, From First To Last, The Used, AFI, Hawthorne Heights. Marilyn Manson, Underoath, As I Lay Dying, Kill Hannah, Senses Fail, Avenged Sevenfold, From Autumn To Ashes


Movies: (Name at least 5+) Thirteen, The Little Mermaid, Labyrinth. Mean Girls, James and The Giant Peach, Charlie and The Chocolate Factory



TV Shows: (Name at least 5+)
AHH! Real Monsters, Legends of the Hidden Temple. Figure It Out, Oprah, Laguna Beach, Summerland, Nip/Tuck

Opinions (Don't make an essay out of them.)
Gay Marriage: This topic is discussed way too much. And majority of the time, people only ask this so the other person can disagree and start a debate on the topic. My opinion on Gay Marriages is that it should be passed and made legal with all the rights attatched. "Life, Liberty, and the Persuit of Happiness."
Labels/Stereotypes: People are always going to label other people. I am sure I label people at times. We all do it. So if somebody gives you a label, simply GET OVER IT!

This Or That-
[x] Smoking / Drinking – I don't do either.
[x] Pants / Skirts - pants
[x] Autumn / Fall – autumn
[x] Pink / Red - pink
[x] Inside / Outside - outside
[x] Piercings / Tattoos - piercings
[x] Love / Lust – L.O.V.E.
[x] Silk / PVC – Silk

Bands / Musicians that you think deserve to die and burn.
1. Good Charlotte (just not a big fan of their work)
2. Lindsay Lohan
3. Said the gun to the girl


Now, Pictures! If you can try and post at least 3+, But NO MORE than 8.



[b.0.r.3.d.]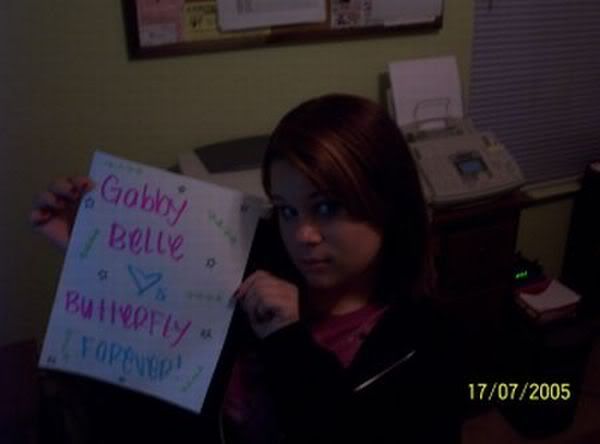 Promote this community in at least 2 other places.
Give the Links, they will be checked!
http://www.livejournal.com/community/1truelove/
http://www.livejournal.com/community/raindropkisses/
http://www.livejournal.com/community/bi_teenagers/